Erosión
2020 - 2023

Hierros y escombros / Iron and debris.
Medidas variables / Variable measures.

Vista en la exposición "Adentro no hay más que una morada" Museo de arte Moderno de Buenos Aires. 2021
Curaduría: Alejandra Aguado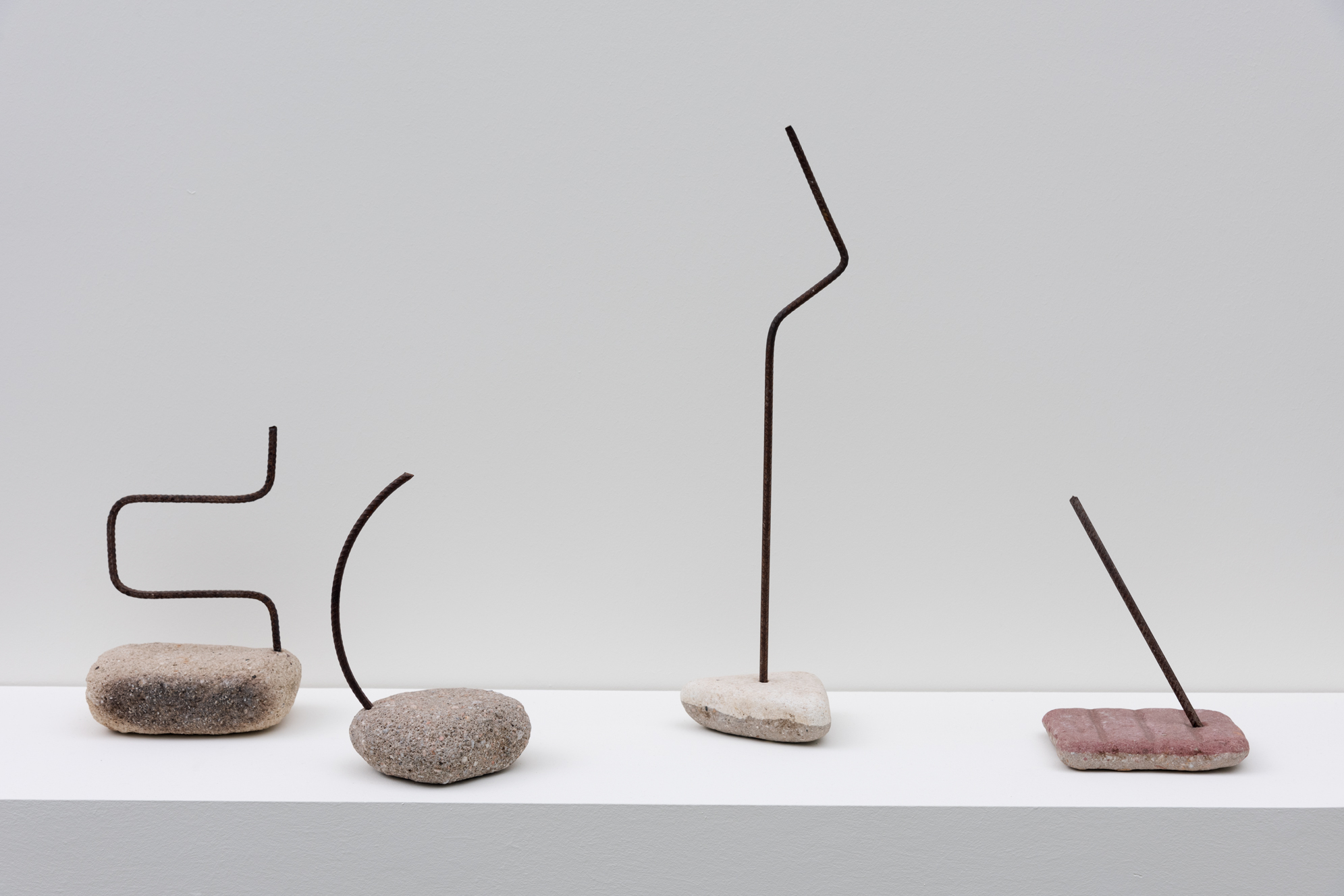 Texto de sala
A modo de objetos arqueológicos, Francisco Vazquez Murillo exhibe una serie de varillas de hierro encontradas que incrusto en escombros erosionados recogidos en la Costanera Sur de la Ciudad de Buenos Aires. Derivadas de su proyecto
Cruzar el río
, de 2020 - una instalación de piezas similares pero de gran escala que dispuestas en un terreno costero, se asemejan a menhires - las piezas de Erosión reflexionan sobre lo que el artista llama "un gesto arquetípico y constructivo mínimo", "la verticalidad como el espacio donde se habita y se elabora la cultura" y nuestra permanente intención de construir sentido, presente en la similitud que tiene con un alfabeto. Expresiones sugerentes de peso y la fijación que implican el acto de habitar, pero nacidas del deambular del artista por su localidad al acecho de formas sutiles, sus obras proponen meditar sobre las consecuencias de nuestros modos de estar, centrados en el encuentro entre el sedentarismo y el nomadismo.
Room text
As archaeological objects, Francisco Vazquez Murillo exhibits a series of found iron rods that he embedded in eroded debris collected from the Costanera Sur in the City of Buenos Aires. Derived from his 2020 project
Cruzar el río
- an installation of similar but large-scale pieces that, arranged on a coastal terrain, resemble menhirs - the pieces in Erosion reflect on what the artist calls "a minimal archetypal and constructive gesture," "verticality as the space where culture is inhabited and elaborated," and our permanent intention to construct meaning, present in the similarity it has to an alphabet. Suggestive expressions of weight and the fixation implied by the act of inhabiting, but born of the artist's wandering through his locality on the lookout for subtle forms, his works propose to meditate on the consequences of our ways of being, centered on the encounter between sedentarism and nomadism.